It is innate, natural and omnipresent, we wonder why we should learn to control it…
It is perhaps because it is vital that it deserves so much attention!
It can be purifying when used properly and it is a powerful destressing tool:
It is called breathing.
You will see the mechanisms of stress, how breathing is a solution, learn how to manage it, and all of the
accompanying health benefits. The emphasis is on practice with concrete exercises for the audience.
FOR WHAT
Simple and accessible to all, this conference is a great success in
companies that want to promote the empowerment of people and
provide them with a great tool for well-being.
DURATION
The workshop lasts 90 minutes.
1.
What happens in
our body when we
are stressed?
2.
Cardiac coherence: very popular with fighter
pilots and high-level
athletes, but also
extremely useful for
calming one's heart rate in 5 minutes flat, according to the French Federation of Cardiology.
3.
Alternate breathing
from yoga, also called
Nadî Shodhana in
Sanskrit: relaxing and
purifying !
4.
Meditation or how to
centre yourself in the
present moment.
FOR WHO?
All employees, managers and company directors who wish to improve their well-being.
IS THIS THE RIGHT TIME FOR YOU? FOR YOUR TEAM?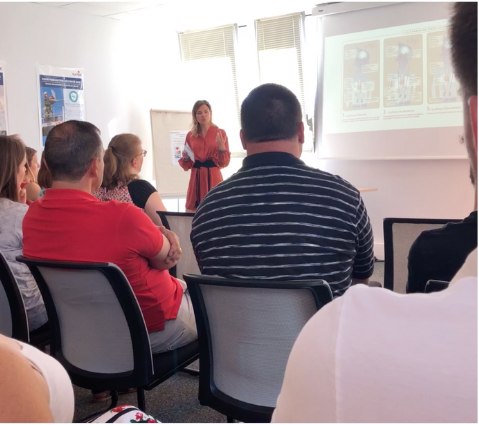 WHAT YOU THOUGHT ABOUT IT…
« Very interesting. Take stock of
what is mindfulness, stopping
rumination, letting go. »
Guyot Martine – Spie Thepault
« The trainer's positive attitude
allows her to mirror her
practice towards said training. »
Théobald Line – Est Accompagnement
« Very interesting
workshop »
« This is a very interesting
and useful workshop. I
totally adhered to this
practice, and I think that it is
a workshop to be repeated as
often as possible at the
professional but also
personal level. »
Gerard Delphine – Est Accompagnement
« Smiling and
passionate facilitator »
« Interesting presentation
with concrete exercises.
Smiling and passionate
facilitator who does most
of the facilitation. »
Ferreux Thiebaut – Spie
SIGN UP FOR THE NEWSLETTER
Be the first to know all the news.