Organize a ZEN moment in your company – what a good idea!
What if you proposed a yoga session to your employees and managers?
The benefits of practicing yoga are increasingly demonstrated by science.
The expected benefits concern the body as well as the mind, hence the positive repercussions in the
professional life and the QLW in general.
MATERIAL REQUIREMENTS
A room large enough to accommodate yoga mats
A quiet environment
A comfortable outfit
DURATION
1 hour (possibility of several time slots in a day).
1.
Gain serenity,
reduce stress
2.
Increase self-confidence,
better understand and
take care of your body
3.
Improve flexibility, work
your muscles gently and
deeply
4.
Improve your
concentration and
immune system
FOR WHO?
All employees, managers and company directors who wish to improve their well-being.
« Yoga is not for men ».
Yes, it is! Men adapt just as well as
women and yoga can meet their needs
as stressed employees or entrepreneurs!
« I am not flexible; yoga is
not for me »
Yoga is practiced at all levels. There is no
competition or comparison in the practice.
At worst, you will gain flexibility, but the
benefits are not measured by that. Yoga
will give you a great overall well-being.
« Yoga has no place in
the corporate world. »
Yes, it does! Yoga is a real plus for
employees, managers and executives, even
if it's just one session a week.
An employee who feels good, is active,
and manages stress well is more
productive. It's a real gift from the
company and it's a win-win situation.
IS THIS THE RIGHT TIME FOR YOU? FOR YOUR TEAM?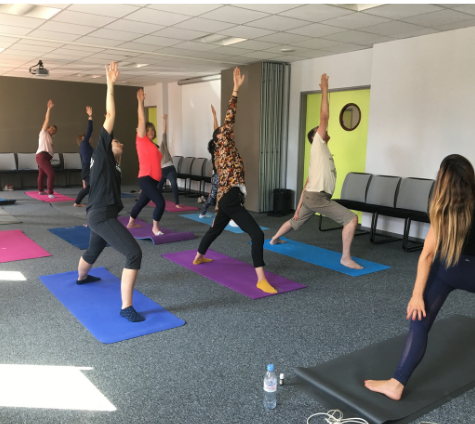 IS THIS THE RIGHT TIME FOR YOU? FOR YOUR TEAM?
« Faced with stress on a daily
basis, it's important for me to
learn to step back and take time
for myself. It was perfect. »
Ophélie DEBIEVE – ALOHA SPA
« Yoga practice should be
mandatory in the workplace.
It allows you to relax. »
Farida Bouchama – SAG THEPAULT
« Very interesting discovery.
Class more intense than
expected, it's very good.
Regenerating break in the
day. »
Olivier GERVAIS – ARCELORMITTAL
« Complementary to
the sports side »
"Very complementary to my
athletic side:
-muscle strengthening
-breathing
-stretching »
Clément DESSON – ARCELORMITTAL
SIGN UP FOR THE NEWSLETTER
Be the first to know all the news.